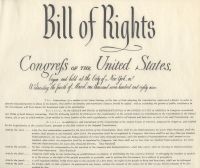 From time-to-time, I feel the need to express a strong opin­ion on a con­tro­ver­sial sub­ject. Just so there's no mis­take, these opin­ions are mine as a pri­vate cit­i­zen and not the opin­ions of an employee of a pub­lic institution.
"Per­se­cu­tion for the expres­sion of opin­ions seems to me per­fectly log­i­cal. If you have no doubt of your premises or your power and want a cer­tain result with all your heart you nat­u­rally express your wishes in law and sweep away all opposition…But when men have real­ized that time has upset many fight­ing faiths, they may come to believe even more than they believe the very foun­da­tions of their own con­duct that the ulti­mate good desired is bet­ter reached by free trade in ideas…that the best test of truth is the power of the thought to get itself accepted in the com­pe­ti­tion of the mar­ket, and that truth is the only ground upon which their wishes safely can be car­ried out. That at any rate is the the­ory of our Con­sti­tu­tion." ~

Jus­tice Oliver Wen­dell Holmes Jr.

[250 U.S. 616(1919)]
HI

Board of Edu­ca­tion:
Appointed — Elected — Abol­ished — Irrelevant?
"Elected ver­sus appointed school boards? The prob­lem with Hawaii schools won't be solved by chang­ing the way peo­ple are picked to sit in the over­size chairs in that upstairs meet­ing room on Punch­bowl Street. The prob­lems are much closer to the ground." Lee Cataluna Hon­olulu Star-Advertiser, Fri­day Octo­ber 22, 2010
On the best of days, the

State of Hawaii Board of Edu­ca­tion

is irrel­e­vant to the oper­a­tion of our pub­lic schools. On the worst days, the

BOE

seems to work at odds with the best inter­ests of schools.
There prob­a­bly needs to be a rep­re­sen­ta­tive entity to under­take a cou­ple of impor­tant tasks. Arguably, the most impor­tant is the selec­tion of the Super­in­ten­dent of the HIDOE. It should be a fair and open process with­out the dis­agree­able odor of polit­i­cal patron­age that often taints busi­ness as usual in our state. One would expect that an elected body would be able to serve the inter­ests of the tax­pay­ers and their chil­dren in find­ing the per­son best suited to lead pub­lic edu­ca­tion into the sec­ond decade of the 21st cen­tury. As Lee Cataluna alludes in her arti­cle, the BOE seems to feel that some­one with impec­ca­ble party cre­den­tials and expe­ri­ence in pro­vid­ing the com­mu­nity with accept­able (though expen­sive) water and sewage ser­vices is the per­fect choice to pro­vide a new vision of edu­ca­tional excel­lence for Hawaii in the twenty-first cen­tury. I won't com­ment. Whoops, I guess I already did. The other major job of the Board is to cre­ate cri­te­ria for high school grad­u­a­tion. Frankly, it doesn't mat­ter whether the mem­bers are elected, appointed, or ad hoc for this one. What does mat­ter is that grad­u­a­tion require­ments accu­rately reflect the real­i­ties of the world in which present stu­dents will live and work in the future and takes into account what skills and apti­tudes are nec­es­sary to give kids a rea­son­able chance at real­iz­ing their aspirations.
The present Board, on those days that enough of them are awake and decide that they had bet­ter do some­thing or peo­ple won't remem­ber that they exist, are mas­ters of the Mickey Rooney/Judy Gar­land school of project plan­ning. In the old Andy Hardy movies of the 1930's, there was always a scene where Mickey Rooney shouts "Hey gang, let's put on a show!" We in the schools see this a lot from the Board. A good exam­ple was the "Senior Project". The Board thought a cul­mi­nat­ing authen­tic learn­ing expe­ri­ence was a good idea. (so do I) They told the schools, "Do a senior project". The schools responded "How exactly should we pro­ceed?" The reply essen­tially was "Fig­ure it out and, by the way, don't ask us for money to do it. We only pro­mul­gate unfunded mandates."
Another small exam­ple of the Board's pro­cliv­ity for annoy­ing schools is the monthly "dog-and-pony-show". The Board announces that they will be appear­ing at such-and-such school in so-and-so dis­trict. The schools in the cho­sen com­plex are imme­di­ately thrown into a panic. All of the Cafe­te­ria Man­agers have to get together and use school funds to pur­chase prime rib, shrimp, and other del­i­ca­cies suit­able for the trav­el­ing court. (Harks back to medieval Eng­land when the King would grace the home of some hap­less lord with the royal pres­ence and the royal entourage.) These meet­ings are care­fully scripted and well attended since all of the school admin­is­tra­tors in the lucky dis­trict are instructed to attend and behave. Noth­ing of any sub­stance takes place but the Board gets a nice warm feel­ing that they are in touch with education.
I asked a Board mem­ber not too long ago, if she real­ized that the waiver that the Board granted to a local high school that gives stu­dents an "F" grade for too many absences or tardies vio­lates the Board's pub­lished pol­icy on assess­ing stu­dent work. She looked at me, her eyes crossed, and she started bab­bling. Obvi­ously not con­ver­sant with her organization's own policies.
But, I digress from my orig­i­nal pur­pose. Polit­i­cal ani­mals are expert at the art of dis­till­ing extremely com­plex issues to a reduc­tio ad absur­dum and then offer­ing a quick fix that will solve everyone's prob­lems. (I used to tell my Econ stu­dents "Any­time some­one tells you that there's an easy answer to an extremely com­plex prob­lem, they're either lying, they're stu­pid, or they're nuts.")
So, we are now informed that by hav­ing the Gov­er­nor appoint the [irrel­e­vant] Board of Edu­ca­tion instead of being elected by peo­ple who either don't know or care enough to find out who is run­ning, we will cure the ills of the pub­lic edu­ca­tion sys­tem and achieve the goal of  "Account­abil­ity". Uh huh. Let's see. Do you mean by "Account­able" that, if progress is not imme­di­ately appar­ent or, in the words of the Grate­ful Dead "…the kid can't read at sev­en­teen, the words he knows are all obscene…" that the Gov­er­nor will resign and the Board will all be fired and replaced? Don't count on it, not in this town.
Okay, so I feel like rant­ing but, lis­ten care­fully. The point I want to make is: It doesn't mat­ter if the Board is appointed, elected, press-ganged, or even just imag­ined. What the State of Hawaii, Board of Edu­ca­tion says or does has essen­tially no cor­re­la­tion to what our chil­dren learn or don't learn in the class­room of our local pub­lic schools. It just doesn't mat­ter. It is some­thing how­ever, that allows politi­cians to give the impres­sion of deci­sive action in seek­ing solu­tions to a prob­lem about which they know nothing.